Trade unions and global restructuring: World Social Forum: where next after Tunis?
See on Scoop.it – Another World Now!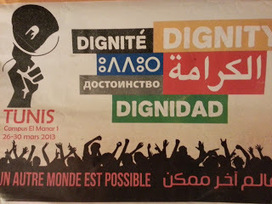 Since its first meeting in Porto Alegre/Brazil in 2001, the World Social Forum has provided a key focus and meeting point for groups opposed to neo-liberal globalisation. Considering the current crisis of the global economy, success of the Forum process has become ever more urgent. In this guest post,John Hilary assesses the most recent World Social Forum, which took place in Tunis from 26 to 30 March 2013.
See on andreasbieler.blogspot.nl